2022 Honda HR-V

Starting at
$21,870[a]
2022 Chevy Trailblazer

Starting at
$21,600
| | | |
| --- | --- | --- |
| 34[b] | Highway Fuel Economy (mpg) | 33 |
| 58.8 | Cargo Space (cu.ft.) | 54.4 |
| Yes | Magic Seats | No |
Two manufacturers, two sides of the world, two vehicles, one champion. While they may be oceans apart, the influence that manufacturers have on one another is nothing short of interesting to watch. Honda and Chevrolet both have passionate fan bases that swear by the brand they drive, and that's why people are so passionate when discussing the 2022 Honda HR-V vs 2022 Chevy Trailblazer. As it goes, the HR-V reached North America starting with the 2016 model year, while the Trailblazer was a familiar name that lay dormant for some time. Between 2010 and 2020, no Trailblazer models were sold in North America, albeit the model was still produced in other regions of the world. Upon its return, the influence that it has taken from the HR-V shines through, and what we have are two highly comparable subcompact SUVs.
Beginning with the basics, the 2022 HR-V starts at an MSRP of $21,870, and the Trailblazer starts at $21,600.[a] Regardless of the minuscule price difference, what matters is what you get for that extra money. Suffice to say, the HR-V truly delivers. Both SUVs are available in four trim levels, with the HR-V offering the LX, Sport, EX, and EX-L. The Trailblazer's trim levels include the base model LS, followed by the LT, ACTIV, and the RS. Higher-end models such as the HR-V EX-L and the Trailblazer RS expectedly give you a greater value-to-features ratio. Even with the pricier trims, these two subcompact models don't stray too far apart with pricing.
Efficiency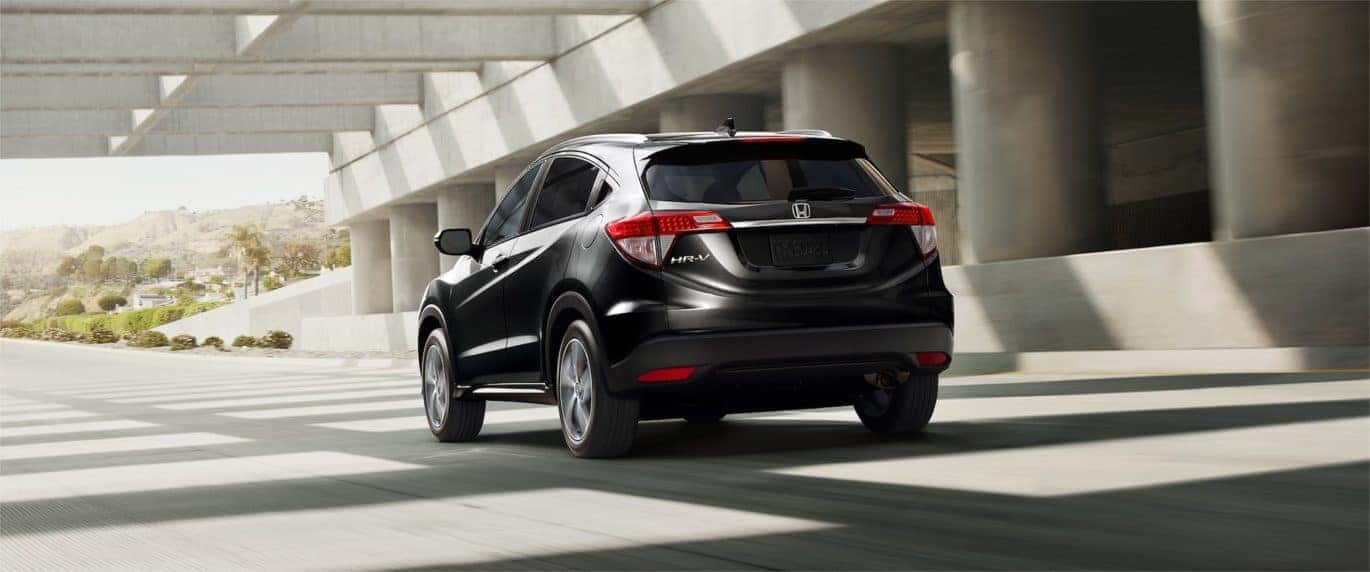 Efficient Honda Engineering
Although the HR-V utilizes a 1.8L I-4 instead of the turbocharged I-3 engines found in the Trailblazer, the turbocharged powertrains aren't as fuel-efficient as you may have first thought. There's only one powertrain for the HR-V, but it's a performant piece of engineering that provides EPA-estimated ratings of up to 28 MPG city and 34 MPG highway.[b] Like most vehicles, the all-wheel drive fuel efficiency numbers are slightly lower. However, it doesn't subtract from the HR-V's fuel efficiency ratings as much as you'd think. Indeed, all-wheel drive HR-V models are rated for up to 27 MPG city and 31 MPG highway. So upgrading to an all-wheel drive model to deal with the snow here in Rochester won't cost you much in terms of fuel consumption.
Two Chevy Engine Options
The first of the two available powertrains for the Trailblazer is a turbocharged 1.2L I-3 engine. Immediately, we see some differences, more specifically, the lack of an all-wheel drive variant. This hinders its abilities in many ways, but at least it has the added benefit of producing EPA-estimated ratings of up to 29 MPG city and 31 MPG highway. This means that the base engine for the Trailblazer gets 3 MPG less on the highway than the HR-V. Plus, if there's snow out on the ground, you'll be better off operating an all-wheel vehicle such as the HR-V.
The next available powertrain for the Trailblazer includes another small three-cylinder engine, this time a turbocharged 1.3L I-3. However, this can be paired with front-wheel drive or all-wheel drive. With the front-wheel drive 1.3L Trailblazer, you get EPA-estimated ratings of 29 MPG city and 33 MPG highway, while all-wheel drive Trailblazers get 26 MPG city and 30 MPG highway. With these ratings, we can tell that the HR-V's all-wheel drive model is more fuel-efficient, and the highway travel ratings come out on top yet again against the Trailblazer's optional turbocharged engine.
Interior

Space and Comfort
Inside the Honda HR-V and Chevy Trailblazer, you'll notice a number of similarities. From the implemented technology to the cabin dimensions, there's plenty to love about both of these SUVs. By default, both vehicles come with manually-adjustable seats, with heated seats added for the higher-tier trims. Cloth seating is standard, but leather-trimmed seats are available for both SUVs on pricier versions.
The dimensions of each vehicle's interior are quite similar, but cargo space is a different story altogether. Starting with the seating experience, Honda's SUV offers 41.2 inches of legroom against Chevy's 40.9 inches. Headroom is also more similar than not, measuring out at 39.5 inches for the HR-V and 40 inches flat on the Trailblazer. In real-world usage, you'll fit the same within both vehicles, meaning the rest of the interior has to fill in the blanks.
Cargo Space Comparison
Because the HR-V utilizes what Honda has dubbed the "Magic Seat System," cargo space can be pushed further with Honda's SUV thanks to a wider range of passenger seat folding options. Since the HR-V and Trailblazer are both relatively small SUVs, additional cargo space is more than welcome. Because of how Honda has implemented the HR-V's powertrain, including the gas tank's unusual placement beneath the driver's seat, cargo space will differ between front-wheel drive and all-wheel drive models.
All-wheel drive HR-V models give you 23.2 cu.ft. of space when all seats are in their proper positions, and the front-wheel drive HR-V gives you 24.3 cu.ft. Although this is slightly lower than the Trailblazer's 25.3 cu.ft., when you fold the seats down, the HR-V shines. When rear seats are folded down, the Trailblazer has 54.4 cu.ft. of space, while the HR-V has 58.8 cu.ft. in its front-wheel drive configuration. While on paper, it may not sound like a massive difference-maker, it can make some cargo hauls nearly impossible on the Trailblazer by comparison. Even better, the Magic Seats can fold up as well, providing generous cargo space for tall items that the Trailblazer simply can't match.
Infotainment Technology
The technology housed in these vehicles is nothing groundbreaking, but it is important nonetheless. For example, both infotainment centers expectedly offer Apple CarPlay and Android Auto, along with an aux port for media playback and USB ports for connecting your smartphone or media drives. All of the software you'd ever need for your infotainment centers can be found with Apple CarPlay and Android Auto, and both vehicles undoubtedly benefit from their inclusions.
Safety

Making Things Simple
Safety features have improved dramatically over the past couple of years, and small SUVs such as the HR-V and Trailblazer aren't missing many of the advanced safety features found on pricier models. However, Honda makes all of its safety technology standard on the higher trims of the HR-V, while Chevy hides some important features in optional packages.
An example of this is Adaptive Cruise Control, which comes standard on both the HR-V EX and EX-L. Comparatively, if you want this feature on the Chevy Trailblazer, you'll need to invest in the optional Adaptive Cruise Control Package. Surprisingly, Chevy locks this popular feature behind a paywall, which is made more surprising by the generous amount of features it has otherwise. HR-V owners won't even need to think about it; if you purchase the EX or EX-L trims, you'll get Adaptive Cruise Control. It's as simple as that.
Duelling Safety Suites
Investing in the aforementioned EX or EX-L trims will give you the Honda Sensing Safety Suite, which competes with Chevy Safety Assist. With both safety suites, you'll get many similar features, such as the Collision Mitigation Braking System for the HR-V, which serves the same purpose as the Automatic Emergency Braking, Front Pedestrian Braking, and Forward Collision Alert on the Trailblazer. This means that both vehicles will detect and attempt to avoid collisions with vehicles or pedestrians by alerting you and then automatically stopping your vehicle if needed.
Other included features, such as Honda's Lane Keeping Assist System and Lane Departure Warning, are similarly met on the Trailblazer with similar systems. Additionally, both vehicles offer Auto High-Beam Headlights, and the safety packages include Following Distance Indicators. Interestingly, receiving the Following Distance Indicator as part of the Chevy Safety Assist package doesn't mean you're getting Adaptive Cruise Control. This is likely to mislead shoppers, and fortunately, the HR-V makes its safety features more unified across the board.