ProFirst Certified Body Shop
ProFirst facilities are certified by Honda for proper tools, training, and their commitment to ongoing training to help ensure thorough repairs for your Honda.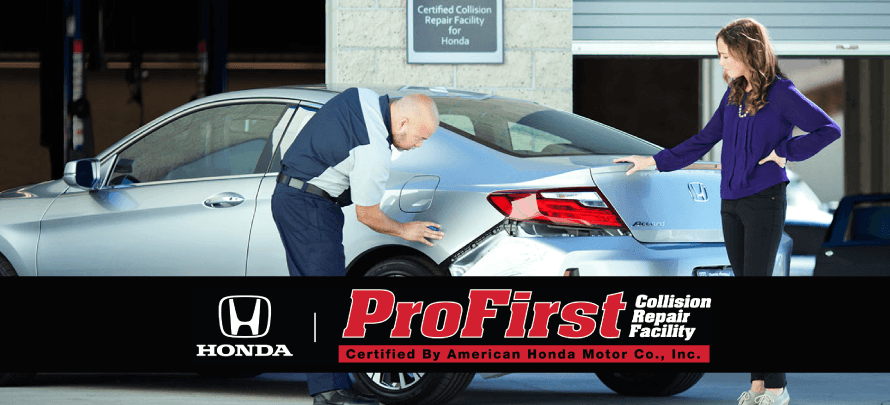 Why consider a ProFirst Certified Body Shop?
ProFirst Certified shops are committed to a complete repair through required ongoing industry education and annual third party certifications.
Knowledge & Skill
ProFirst Certified shops must earn an I-CAR Gold Class Professional®, Verifacts VQ or Verifacts Medallion. See below to learn more.
I-CAR Gold Class Professional®
I-CAR (The Inter-Industry Conference on Auto Collision Repair) is a non-profit organization dedicated to providing education to the collision repair industry, ensuring proper repairs. I-CAR Gold Class Professionals®, is the highest I-Car level of achievement and considered the highest level of training in the industry.
VeriFacts VQ
VeriFacts VQ verifies a body shop adheres to the vehicles original manufacturer's repair guidelines. VeriFacts performs on-site shop inspections of repair methods, materials, tools and equipment are consistent with the vehicle manufacturer's recommendations. VeriFacts is the most highly respected verification/inspection organization in the industry.
Honda Specific Training
ProFirst shops must complete I-CAR training, and additional Honda-specific training ensuring they are up to date on all the newest Honda technology.
Honda Specific Repair Information
ProFirst Certified body shops have access to all service and repair information straight from Honda. Including mechanical and collision repair, for all years and models of Honda automobiles.
Tools and Equipment
Honda vehicles are designed and engineered using specific materials that often require specific tools and equipment for proper repair. ProFirst Certified shops are equipped and educated with the right tools and equipment to repair your Honda properly.
Facility Standards
All ProFirst Certified shops are required to maintain a clean and professional space in the customer lounge and inside and outside the shop.
Customer Satisfaction System
Profirst Certified shops are committed to customer satisfaction, with a customer satisfaction survey system to ensure that they are meeting your needs.
Annual Inspection and Certification
Through a third-party, American Honda annually inspects all ProFirst Certified shops to verify proper equipment, facility cleanliness, and overall shop operation. Training verification is also performed on an ongoing basis.