2022 April Newsletter
INSIDE RALPH


APRIL 2022 NEWSLETTER
HAPPY EASTER FROM RALPH HONDA

HONDA NEWS
Honda Opens New World-Class Wind Tunnel in Ohio
Honda today opened its new $124 million state-of-the-art wind tunnel facility, ushering in a new era of development testing capabilities for Honda and Acura products, as well as the company's race vehicles. The new Honda Automotive Laboratories of Ohio (HALO) facility, located at the independent Transportation Research Center Inc. (TRC) in Central Ohio, is the world's most advanced wind tunnel, with three separate state-of-the art testing functions — aerodynamics, aeroacoustics, and racing — in one location.
Honda created the multifunctional HALO facility to reinforce its commitment to developing fuel-efficient and fun-to-drive vehicles. One of the most advanced of its kind anywhere, the wind tunnel uses a unique interchangeable modular ground plane system capable of aerodynamic vehicle testing of production vehicles and race machines.
With a five-belt rolling road system designed for production vehicle development and a second single wide-belt system for testing both high-performance sports cars and purpose-built race vehicles, the tunnel can generate wind speeds of more than 190 miles per hour.
To read the full article, click HERE.
EARTH DAY IS APRIL 22nd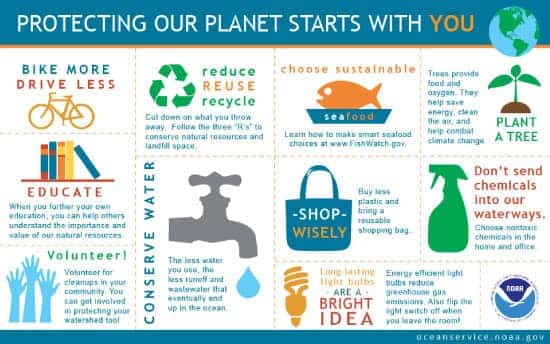 Protecting Our Planet Starts With You
Reduce, reuse, and recycle. Cut down on what you throw away. Follow the three "R's" to conserve natural resources and landfill space.

Volunteer. Volunteer for cleanups in your community. You can get involved in protecting your watershed, too.

Educate. When you further your own education, you can help others understand the importance and value of our natural resources.

Conserve water. The less water you use, the less runoff and wastewater that eventually end up in the ocean.

Choose sustainable. Learn how to make smart seafood choices at www.fishwatch.gov.

Shop wisely. Buy less plastic and bring a reusable shopping bag.

Use long-lasting light bulbs. Energy efficient light bulbs reduce greenhouse gas emissions. Also flip the light switch off when you leave the room!

Plant a tree. Trees provide food and oxygen. They help save energy, clean the air, and help combat climate change.

Don't send chemicals into our waterways. Choose non-toxic chemicals in the home and office.

Bike more. Drive less.
EMPLOYEE ANNIVERSARIES
── 19 YEARS ──
Patrick McTammany (Service Advisor)
── 15 YEARS ──
Frank Christ (Sales Consultant)
Jeff Sinski (Lot Attendant)
── 5 YEARS ──
JB Conti (Sales Consultant)
Paul Shultz (Lot Attendant)
── 1 YEAR ──
Italo D'Intino (Sales Consultant)
FEATURED SERVICE SPECIAL
SAVE $22.00
ON A 4-WHEEL ALIGNMENT


We know this winter and Rochester's potholes might have affected your vehicle's alignment and we're here to help. Regularly $109.99.

*Prices may vary by model. Plus taxes and fees where applicable. Please present coupon during write-up. Not to be combined with any other related offers.
SERVICE TIPS

Wiper Blades
What are they?


Important for the safe operation of your vehicle, wiper blades clear rain, snow, and dirt from the vehicle's windshield for a clear, unobstructed view of the road.

What if I ignore them?


Poor wiper performance and visibility issues, including the following:
• Chattering: A blade parked in the same position will, over time, mold to the curvature of the windshield's base. This "permanent set" of the curvature forces erratic contact with the rest of the windshield's surface as it wipes, causing chatter.
• Streaking: While the usual culprit is dry rubber, streaking can also be caused by foreign substances (such as tree sap, insects, or road grime) stuck on the blade rubber. The stuck-on debris moves along with the wiper blade, impairing visibility and sometimes causing windshield damage.
• Split or worn rubber: Age and use will cause rubber to wear down and split over time. Split rubber can also be caused from exposure to the sun's ultraviolet rays. Either way, deteriorated rubber blades can hamper your ability to have a safe view in wet weather driving.

What if I take care of them?


• Restore visibility, allowing you to drive more safely
• Restore wiper performance and effectiveness

What if I take care of them?
• Exact size and fit: Honda Genuine Wiper Blades are the precise length for optimal blade performance. Other brands, designed to accommodate a variety of cars, might be longer or shorter — which could affect wiper performance and visibility.
• Exacting standards: Every Honda Genuine Wiper Blade must meet Honda's strict original specifications. They're made using the highest quality, most durable rubber compounds and frame materials.

Why service your vehicle at a Honda Dealership?
Warranty Coverage — Honda Genuine Replacement Parts purchased from a Honda dealership are covered for 1 year from the date of purchase, regardless of installation location. See your vehicle's warranty materials for additional terms and conditions.

Value and Trust — Honda dealerships strive to offer the same things people choose a Honda vehicle for, including reliability, dependability, and value. The Parts and Service Department is committed to earning your loyalty every time you visit and helping you prolong the life of your vehicle.

Honda Professionals — Dealership Parts and Service personnel are trained professionals and are continually provided leading-edge customer service, process, and technical training. Combine that with up-to-date technical resources, specialized processes, and specific tools for your exact model and yea, and you've got the right people to help make maintaining your Honda as satisfying as owning it.
KEY FOB COVERS
Looking to personalize you key fob with your favorite color? Or maybe just choosing a bright color so it's easy to find your key. 🙂 We have key fob covers available in the parts department for only $7.50!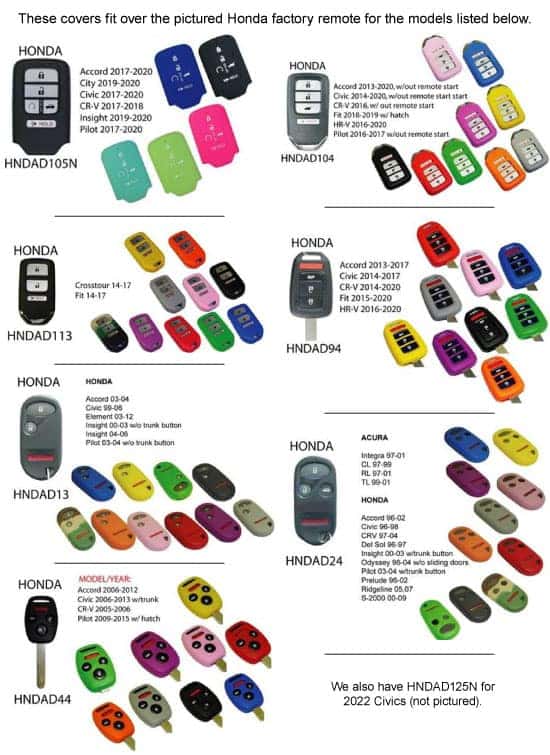 FEATURED RECIPE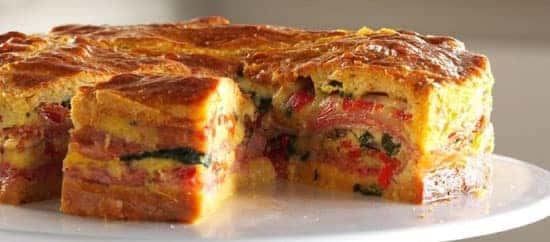 Italian Brunch Torte
Ingredients
2 tubes (8 ounces each) refrigerated crescent rolls, divided
1 teaspoon olive oil
1 package (6 ounces) fresh baby spinach
1 cup sliced fresh mushrooms
7 large eggs, divided use
1 cup grated Parmesan cheese
2 teaspoons Italian seasoning
1/8 teaspoon pepper
1/2 pound thinly sliced deli ham
1/2 pound thinly sliced hard salami
1/2 pound sliced provolone cheese
2 jars (12 ounces each) roasted sweet red peppers, drained, sliced and patted dry
Directions
1. Preheat oven to 350°. Place a greased 9-in. springform pan on a double thickness of heavy-duty foil (about 18 in. square). Securely wrap foil around pan. Unroll 1 tube of crescent dough and separate into triangles. Press onto bottom of prepared pan to form a crust, sealing seams well. Bake until set, 10-15 minutes.
2. Meanwhile, in a large skillet, heat oil over medium-high heat. Add spinach and mushrooms; cook and stir until mushrooms are tender. Drain on several layers of paper towels, blotting well. In a large bowl, whisk 6 eggs, Parmesan cheese, Italian seasoning and pepper.
3. Layer crust with half of each of the following: ham, salami, provolone cheese, red peppers and spinach mixture. Pour half of the egg mixture over top. Repeat layers; top with remaining egg mixture.
4. On a work surface, unroll and separate remaining crescent dough into triangles. Press together to form a circle and seal seams; place over filling. Whisk remaining egg; brush over dough.
5. On a work surface, unroll and separate remaining crescent dough into triangles. Press together to form a circle and seal seams; place over filling. Whisk remaining egg; brush over dough.
Receipe credit: tasteofhome.com
LET'S KEEP IN TOUCH