2022 October Newsletter
INSIDE RALPH


OCTOBER 2022 NEWSLETTER
HONDA NEWS

2023 Honda CR-V
Honda's most popular SUV, the compact CR-V, is all-new for 2023, packing in some exciting enhancements for its 6th-generation.
The longer and wider CR-V is served up in four trims, including the hybrid-based Sport and Sport Touring. They use a refined 2.0-liter 4-cylinder engine and a pair of electric motors. Combined, that's 204 horsepower and 247 lb-ft of torque.
The EX and EX-L are internal combustion only: the Civic's 1.5-liter turbocharged inline-four but rated to 190 horsepower and 179 lb-ft of torque. It's mated to a CVT transmission, also updated with Step-Shift programming which we recently sampled in the new HR-V. It simulates gear changes at full throttle and helps lighten up some CVT woes.
All-wheel drive is standard on the Sport Touring and available on every other grade, which come standard front-wheel drive.
It's pretty obvious when you look at the exterior of this new CR-V that it's larger than the previous generation, but it's not so obvious sitting in the driver's seat. I feel like I'm just driving a compact crossover. Certainly doesn't feel bigger. It's still very comfortable, very smooth on the road.
Wrapped up in a much bolder, chiseled new body, the CR-V is now 2.7-inches longer and 4/10ths of an inch wider. This leads to more room inside; better legroom and eight angles of recline in back. This new gen also boasts the most cargo space of any CR-V: 36.3 cubic-feet behind the rear seats, expandable to 76.5 cubic-feet thanks to the 60/40 folding second-row.
Standard tech and convenience features in and around the Civic-inspired I.P. include Honda Sensing, a 7-inch driver interface screen and a 7-inch infotainment touchscreen with wired smartphone integration. The EX-L and Sport Touring add a 9-inch touchscreen with wireless phone integration and charging.
Destined for three North American assembly plants, the 2023 Honda CR-V should reach consumers with ease starting in late summer; hybrid models will follow nearer year's end.

article credit: motorweek.org
Reserve Your Honda


Although in-stock inventory is limited, we have your next CR-V ready to Pre-Order for October/November delivery! Use our Vehicle Builder Tool to customize your next vehicle and our team of experts will work with you from order through delivery.
EMPLOYEE ANNIVERSARIES
── 18 YEARS ──
Trish Wright (Service Scheduling/Dispatch)
── 6 YEARS ──
Joe Lighthouse (Sales Consultant)
── 5 YEARS ──
Grace Lechner (Sales Consultant)
── 5 YEARS ──
Rochelle Prest (BDC Adgent)
SERVICE TIPS

7 Safe Driving Tips During Deer Season
1. Be cautious while driving during dusk or dawn
Deer are most active during sunrise and sunset, especially during mating season, which is in full swing from October through December. Ensure that you and your passengers are wearing seat belts at all times, even in the back seat, just in case you have to make a sudden stop.2. Pay attention to deer crossings signs
Be alert and observe your surroundings for any signs of wildlife while on the road. Deer are abundant in forested areas, but may wander into suburban neighborhoods in search of food, so it's important to drive cautiously even if you're no longer in a deer-crossing zone.

3. Stay alert if you spot a deer
Deer tend to travel in packs — so if you see one deer, slow down and proceed with caution. Even if you spot a deer on the side of the road or surrounding areas, remember that there could be others about to cross your path.

4. Take precautions when driving at night
Nighttime driving can put a strain on the eyes, so be safe by driving at a moderate speed. If there is no oncoming traffic, turn on your high beams: you'll be able to see clearer, but you'll have a greater chance of spotting a deer from a distance.

5. Don't swerve to avoid hitting a deer
Do not swerve to avoid a deer collision. By swerving you put yourself at risk for a worse collision with another vehicle or running off the road. Stay in your lane and try to slow down.

6. Get comprehensive coverage for your car
Did you know that physical damage to your car as a result of something other than a collision with another vehicle might not be covered by standard car insurance? With comprehensive car insurance, you will receive additional coverage and protection for car accidents involving animals.

7. Report the deer-vehicle collision
If your car hits a deer, contact your local authorities and insurance company to file a claim.
WISHING YOU A SAFE AND HAPPY HALLOWEEN
FROM THE RALPH HONDA FAMILY!


THANK YOU VOLUNTEERS!
Thanks to Team Ralph volunteers who went to set up & serve lunch to the awesome staff at Mary Cariola East Ave Campus & East Henrietta Campus for a Staff Apprection Luncheon!

Corin DeRue – Sales Consultant
Grace Lechner – Sales Consultant
Sean McCarthy- Finance Director
Joyce McGarry – wife of Chuck McGarry – Collision Shop Manager
Rhonda Breedlove – Office Manager
FOOD SHELF & CLOTHING CLOSET


Thanksgiving Program
If you would like to support this program, please send in your donation by November 1st. We are continuing our tradition of helping families celebrate with a holiday meal. This program began in 1980 with help to three families and has continued without interruption – even in 2020. Last November we helped 280 families. This year, thanks to the generosity of the community, we will expand the program to include individuals and couples. The recipients will again be given an Aldi's gift card to allow them to choose their own food. The dollar amount they are given will be based on the household size.

This allows us time to determine how many clients we can include in the program. Please note "Holiday" on your check. You can also "adopt" a family and purchase what they need to make a holiday meal. Call our program hotline at 585-397-0604 if interested in this option. Volunteers are needed at the Drive-Thru pick up for recipients on Saturday, November 12th from 11 AM to 1 PM and Tuesday, November 15th from 2 to 4 PM. Please call 683-9674 and leave a message for the Volunteer Coordinator or email her at [email protected], if you can help.
FEATURED RECIPE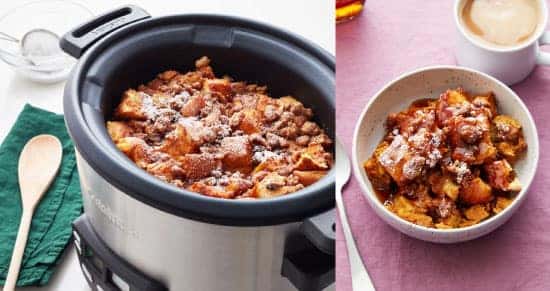 Slow Cooker Pumpkin French Toast Casserole
Ingredients
For the casserole:
1 (16-ounce) loaf brioche, cut into 1-inch pieces
Cooking spray or unsalted butter
6 large eggs
2 cups half-and-half
1 (14-ounce) can pumpkin purée
3 tablespoons granulated sugar
1 tablespoon pumpkin pie spice
1 teaspoon pure vanilla extract
1/4 teaspoon kosher salt
Powdered sugar, for serving (optional)
Maple syrup, for serving (optional)For the crumb topping:
1/4 cup all-purpose flour
3 tablespoons packed light brown sugar
3 tablespoons chopped, toasted pecans
1/2 teaspoon ground cinnamon
1/2 teaspoon ground nutmeg
Pinch kosher salt
2 tablespoons unsalted butter, melted
Directions
1. Arrange a rack in the middle of the oven and heat to 250°F.
2. Place the bread in a single layer on a rimmed baking sheet and toast, stirring halfway through, for 20 minutes. Set aside to cool slightly.
3. Generously coat a 6-quart or larger slow cooker with cooking spray or butter. Arrange the toasted bread evenly in the slow cooker and set aside.
4. Place the eggs in a large bowl and whisk to combine. Add the half-and-half, pumpkin, sugar, pumpkin pie spice, vanilla, and salt and whisk to combine. Pour the custard over the bread. Use a wooden spoon to gently stir so all the cubes are evenly coated and soaked through. Cover and refrigerate overnight, if desired.
5. If necessary, remove the uncooked casserole from the refrigerator and let it sit at room temperature while you make the crumb topping.Make the crumb topping
1. Stir the flour, sugar, pecans, cinnamon, nutmeg, and salt together in a medium bowl. Drizzle with the butter and stir until big, slightly floury crumbs form.
2. Sprinkle the crumb topping evenly over the casserole. Place a large sheet of paper towels over the slow cooker, making sure it completely covers the top of the slow cooker but does not sag down onto the casserole. Cover and cook until set, 4 hours on the LOW setting or 2 hours on the HIGH setting.
3. Right before serving, dust with powdered sugar if desired. Serve warm with maple syrup if desired.
Receipe credit: tasty.com

LET'S KEEP IN TOUCH