2022 June Newsletter
INSIDE RALPH


JUNE 2022 NEWSLETTER
HONDA NEWS
All-new 2023 Honda HR-V Teases Interior Versatility Geared for Adventure
Sporty and versatile, the all-new 2023 Honda HR-V is just the right size for young, active buyers looking for a fun driving experience and enough space and utility for an adventurous lifestyle. Adopting Honda's new "Simplicity and Something" interior design direction that debuted on the 11th-generation Civic, HR-V's new premium, high-tech cabin is feature-rich and flexible, with a more comfortable back seat and larger cargo area.
Full details to come closer to launch as the company continues its "Year of the Honda SUV." Additional information about the all-new HR-V can be found here.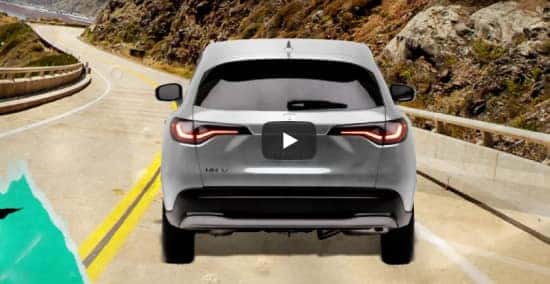 WE WANT TO BUY YOUR VEHICLE!
Ralph Honda would like to offer you TOP DOLLAR for your current vehicle! We are also willing to purchase your vehicle outright even if you're not in the buying market. Any member of our sales team is ready to assist you with starting the trade-in process. Please call or text us at 585-299-1972 or click on the button below to get things started!
EMPLOYEE ANNIVERSARIES
── 39 YEARS ──
Chuck McGarry (Collision Shop Manager)
── 30 YEARS ──
Dale Wright (Master Technician)
Ed Wright (Technician)
── 23 YEARS ──
David Zimny (Master Technician)
── 17 YEARS ──
Rhonda Breedlove (Office Manager)
── 3 YEARS ──
Don Collichio (Greeter)
SERVICE TIPS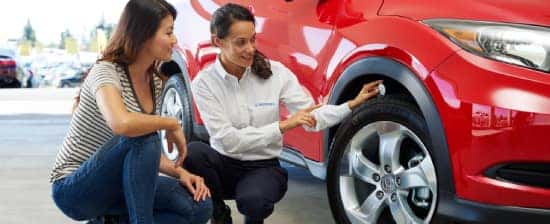 Tire Inflation Pressure
Tires can lose 1 psi (pound per square inch) per month under normal conditions.
Additionally, tires can lose 1 psi for veery 5° C temperature drop.

Other factors impacting loss of tire pressure:
• Punctures
• Loose valve stems
• Tire bead/wheel rim interface

Just a look won't do it.
One of these tires is actually 10 psi under-inflated. Your eyes can deceive you, so rely on a good tire gauge for an accurate reading.

Look for the manufacture's recommended tire pressure listed on the sticker usually located on the driver's-side door edge or door jamb area. Example:



This chart shows you how underinflation can create an overload on tires.
Check your tie pressure every month to make sure it's up to specification, especially before long trips or carrying extra weight.



Lower pressure increases heat.
Infrared photography of tires tested at high speed. Damaging heat increases as inflation pressure drops.
HAPPY FATHER'S DAY FROM RALPH HONDA
Here's a little something for our fathers showing our appreciation. Just mention this Gift Card at the time of write-up to receive $10.00 OFF!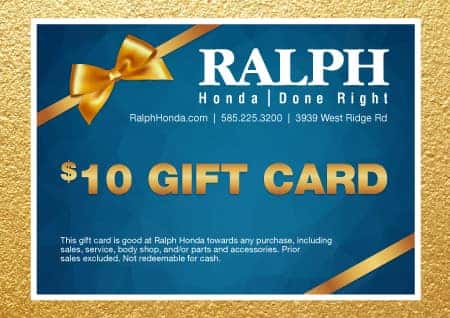 THANK YOU BETTY FORD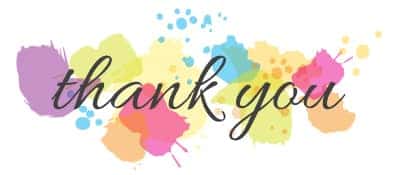 We wanted to thank Betty Ford for donating 3 bags of books to our in house library! Our customers and team members are enjoying them.
FUN FACTS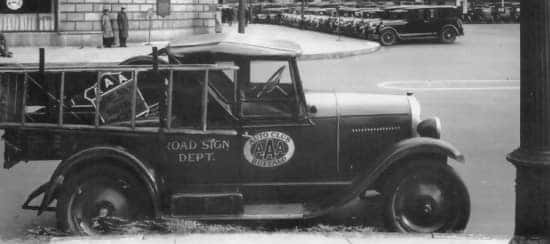 Where Did the First Road Signs Come From?
AAA played a key role in establishing our nation's roads, supporting the formation of an early version of the Department of Transportation in 1903, and advocating for safe roads ever since.

But many of our nation's early roads were unmarked. And what good is a road if you don't know where it leads?

So, starting in 1906, regional AAA clubs began paying for and installing wooden signs to help motorists find their way.

The work was as voluminous as it was necessary. Unmarked roads stretched the length and breadth of the continental United States.

In 1914, AAA started a cohesive transcontinental signage project, installing more than 4,000 signs in one stretch between Los Angeles and Kansas City alone.

It's another illustration of the association's quiet but critical role in the development of our nation's infrastructure – and combined with our history of cartography, travel planning and roadside assistance, we've been helping motorists find their way ever since.

Receipe credit: westerncentralny.aaa.com
IT'S A GIRL!


Congraulations to Jayson & Gina as they welcome a baby girl into the family!

Olivia Jayde Agron
7lbs 5oz
19.8 inches long
FEATURED RECIPE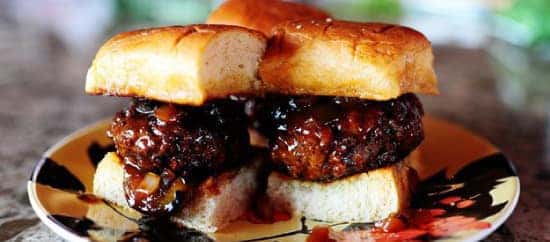 Spicy Whiskey BBQ Sliders
Ingredients
2 lb. ground meat (beef, bison, turkey)
Salt and pepper
4 tbsp. butter
1 whole large onion, diced
1/2 c. whiskey
1 c. barbecue sauce
1/4 c. jarred jalapeño slices (more to taste)
12 whole slider buns or dinner rolls, split
Directions
1. Form the meat into 12 (or so) miniature patties and salt and pepper them on both sides. Melt the butter in a skillet over medium-high heat and cook the patties until just about done in the middle, approximately 3-4 minutes per side. Remove the patties from the skillet and set aside. Drain off all but 2 tablespoons of grease, then return the skillet to the stove.2. Throw the diced onions in the skillet and stir to cook, about 3 minutes. Pour in whiskey (be careful if you're cooking over an open flame; turn it off momentarily to be extra careful) and stir. Allow the whiskey to reduce by half, about 2 to 3 minutes, then stir in jalapeños and the barbecue sauce.

3. Reduce the heat to low and place the patties in the barbecue sauce, turning to coat. Allow the patties to simmer in the sauce until everything's hot and bubbly.

4. Place the patties on individual buns and be sure to spoon extra sauce (with the jalapeños!) over the top of each one before topping with the other half of the bun.

Receipe credit: thepioneerwoman.com
HAPPY 4TH OF JULY FROM RALPH HONDA!
LET'S KEEP IN TOUCH