2021 May Newsletter
INSIDE RALPH

MAY 2021 NEWSLETTER
INTERESTING HONDA FACTS

1. Honda originally manufactured motorized bicycles
During the post-war period, Soichiro Honda and a team of twelve men created engines to attach to bikes. Honda Motor Company became the world's largest motorcycle manufacturer in 1964.
2. Many Hondas are produced in the U.S.
Honda is a Japanese company, but not everyone realizes that Honda has several manufacturing facilities in America.
3. The Honda Accord was the first foreign vehicle manufactured in the U.S.
The 1982 model was produced in Honda's Marysville, Ohio plant.
4. Honda makes more than cars and motorcycles
Honda is involved in the manufacturing of other products like watercraft, ATVs, aircraft, mountain bikes, lawn equipment, and solar cells. They even created a humanoid robot called ASIMO.
5. Honda has its own airport
It's located in Japan near its main plant.
6. Honda is a major exporter of soybeans
They began shipping soybeans from the U.S. to Japan in 1986 because the crop was plentiful in Ohio, Japan had a market for it, and they wanted to invest in the state they were operating in.
7. Honda dominates the Indy 500
Honda-built engines have won more Indy 500 races than any other manufacturer.
8. Honda makes a private jet aircraft
The HA-420 HondaJet is powered by Honda engines.
9. Honda is the largest engine manufacturer in the world
The company makes over 14 million engines a year.
10. The Honda Gold Wing motorcycle has been in production for over 40 years
The first Gold Wing was manufactured in 1974.
11. The Honda Civic was Honda's answer to the 1973 oil crisis
The first Civic got 40mpg on the highway.
12. Honda made the first four-wheel drive car
It was the 1987 Honda Prelude.
13. Joe drove his 1997 Honda Accord over one million miles
Joe Cicero of Maine reached one million miles in 2011 on the original engine and transmission. Honda gave him a parade and a new 2012 Accord.
14. Early Honda CR-Vs had picnic tables
From 1997 to 2006, every Honda CR-V had a folding plastic picnic table under the cargo area.
15. The Honda Acura is the first Japanese automotive luxury brand
The first Acura was released in America in 1986.
16. The first car mass-marketed by Honda was the S600
It was available as a convertible and fastback coupe.
17. Kelley Blue Book thinks they're a good buy
In 2016, Kelley Blue Book awarded the "Best Buy of the Year" to the 2016 Honda Civic, CR-V, Pilot, and Odyssey, in their respective classes.
FEATURED VEHICLE OFFER

2021 Honda Civic Sedan LX CVT

$129/MONTH

36 MONTHS LEASE | $3,499 DOWN*

*2021 Civic Sedan LX CVT – MSRP: $22,005 – plus $395 premium color fee on select trims – FC2F6MEW. 36 month closed end lease. $3499 trade or cash down. First payment, $595 acquisition fee, taxes and DMV fees due at signing. 10,000 miles/year. $0.15 overage. To qualified buyers through AHFC. Lessee responsible for maintenance, excess wear/tear and up to $0.20/mi. over 10,000 miles/year. Dealer may affect actual payment. Offer valid through 6/1/21.
NEW CIVIC TYPE R JUST ARRIVED!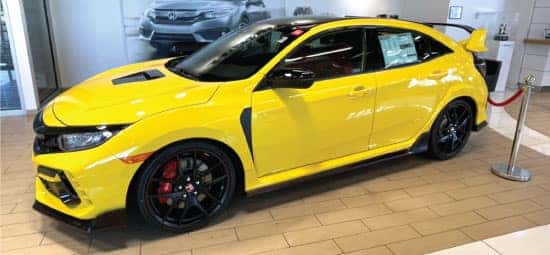 | | |
| --- | --- |
| Its wheels may be firmly on the road, but the soul of the Type R emanates from the track. The 306-hp16 VTEC® turbo engine provides a staggering 153 hp per liter. Coupled with a stiffened lightweight frame and purpose-built suspension, you'll feel enhanced stability at the limit. When 70 years of engineering for the racetrack is distilled into one Civic, you can expect a visceral driving experience simply unmatched anywhere else. | 2021 Honda Civic Type R Limited Edition |
WELCOME DON PATTERSON

Our New Sales Manager

I have been in the auto industry for over 30 years. After all that time I still love this business and enjoy coming to work. (most days)
My wife Angela and I are empty nesters. We have 3 grown children and twin 5 year old Granddaughters. Also a third grandchild on the way. We enjoy nothing more than spoiling them and sending them home to their parents.
When I am not working or with my family, I enjoy golfing hiking and outdoor activities. My wife and I also enjoy traveling and look forward to be able to start up again soon.
I am absolutely thrilled to be part of the Ralph Team! I also look forward to working with the customers and getting to know everyone at the dealership.
EMPLOYEE ANNIVERSARIES
── 15 YEARS ──

Dave Moffett (Sales Consultant)

── 8 YEARS ──

Jeff (Capt. Cupcake) Ford
(Parts Consultant)
FEATURED RECIPE

5-Ingredient Lemon Crumble Bars
Ingredients

1 package (16 oz) refrigerated Pillsbury™ Ready to Bake!™ Sugar Cookie Dough (24 Count)
3 lemons
2 egg yolks
1 can (14 oz) sweetened condensed milk (not evaporated)
1/4 cup quick-cooking oats

Directions

1. Heat oven to 350°F. Line 8-inch square pan with cooking parchment paper.
2. Reserve 8 cookies. With fingers, press remaining 16 cookies in bottom of pan.
3. To make filling, wash lemons; pat dry. Finely grate peel from 2 of the lemons; squeeze 1/3 cup fresh lemon juice. Place peel and juice in medium bowl. Add egg yolks and condensed milk; stir to combine with fork or whisk. Pour over cookie dough crust.
4. To make topping, in another medium bowl, crumble reserved cookies. Add oats and grated peel from remaining lemon; knead mixture with fingers for a few minutes until well combined. Crumble evenly over lemon filling.
5. Bake 35 minutes or until edges are golden brown and filling is set. Cool completely, about 1 hour.
6. Cut into 4 rows by 3 rows to make 12 bars, or 4 rows by 4 rows to make 16 bars. Store covered in refrigerator.

Receipe credit: pillsbury.com
HAPPY MOTHER'S DAY FROM RALPH HONDA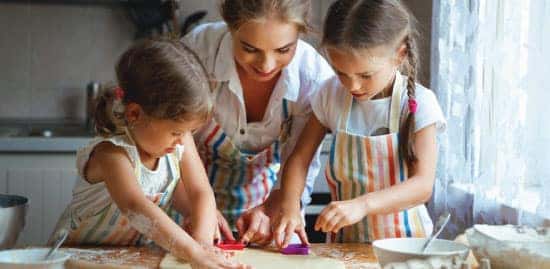 Here's a little something for our mothers showing our appreciation. Just mention this Gift Card at the time of write-up to receive $10.00 OFF!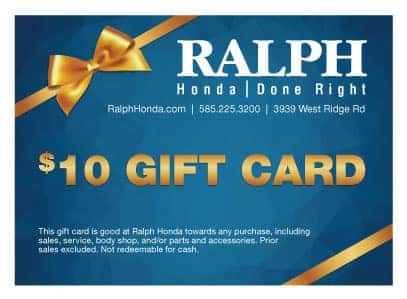 LET'S KEEP IN TOUCH