2021 December Newsletter
INSIDE RALPH


DECEMBER 2021 NEWSLETTER
HAPPY HOLIDAYS FROM RALPH HONDA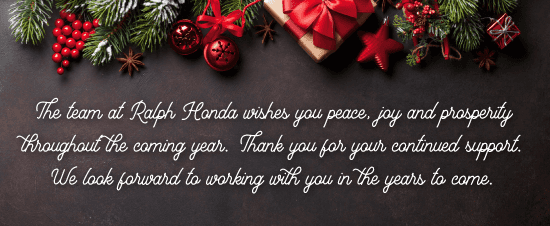 STATE OF THE INDUSTRY
The automotive industry (and yes, that includes us here at Ralph Honda), is definitely feeling the impact of a variety of circumstances happening in the U.S. and worldwide, such as:
The microchip (chip) shortage and the resulting production cutbacks
Port congestion and various transportation delays
The impact of the COVID-19 pandemic
Staffing shortages
As a result of these issues the entire automotive industry is forced to find new and creative ways to do business.
For more information about the chip shortage, click here: RalphHonda.com/chip-shortage
There's a Honda with your name on it
Although there is a shortage of vehicles in-stock, we still have hundreds of new Hondas available to choose from in addition to our selection of quality pre-owned vehicles. We have access to the Honda's that are currently assigned to us and are in production at a Honda plant, as well as the Honda's that have been built and are in-transit to our store. Every day we help our customers find the right vehicle and handle the logistics of getting the vehicle to the customer. Although the process may have changed, our experienced team are ready to assist you in your next vehicle purchase.
Lease customers
Planning in advance as your current lease comes to an end is important. It may require additional time to locate and secure your next Honda which can be done while you are still completing your current lease term. We suggest starting the process 3-12 months before your current lease maturity date to provide the best possible buying experience.
Please contact us at 585.299.2313 to schedule an appointment with your sales consultant to discuss your end of lease options.
If you are interested in purchasing your leased vehicle, please contact a member of our business office:
Let's Talk!
We would love to connect with you and assist with your vehicle search and selection process or discuss your end of lease options. You can reach one of our live agents via Voice, Text, or Chat.


HONDA NEWS
Honda Accord Does It Again! Unprecedented 36th Car and Driver 10Best Award Makes Accord Most Honored Vehicle in 10Best History

• Accord is the most awarded vehicle in Car and Driver 10Best history by a wide margin
• Honda is the winningest brand in Car and Driver 10Best history
• A new Sport trim joins the Accord Hybrid lineup for the 2022 Model YearTORRANCE, Calif., November 17, 2021 – The Honda Accord has been named a 2022 Car and Driver 10Best pick, marking the 36th time Accord has made the prestigious list. Accord is the most awarded vehicle in 10Best history by a wide margin, and with 66 total awards, Honda also is the winningest brand in Car and Driver 10Best history. At least one Honda has earned a spot on the annual list since the award's inception in 1983.

To read the full article, click HERE.
EMPLOYEE ANNIVERSARIES
── 24 YEARS ──
Bob Tomoser (Sales Manager)
── 2 YEARS ──
Russ LoBrutto (Service Drive Assistant)
SERVICE TIPS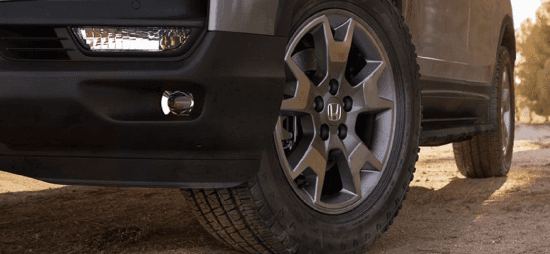 Tire Pressure
What is it?


Properly inflated tires provide the best combination of handling, tread life, and comfort. The air pressure inside the tires supports the weight of the vehicle. Tire pressure is the inflation pressure specification, measured in Pounds per Square Inch (PSI), for a given tire type, size, and application.The cold tire inflation pressure, PSI, is on the Tire Information Label located on the driver's side door jamb.

Because tires can lose 1 to 2 PSI of tire pressure per month, tire pressures must be checked regularly.

What if I ignore it?
• Underinflation, or low tire pressure, can cause premature wear, irregular tread wear, and decreased fuel efficiency
• Underinflation adversely affects handling
• Underinflation may lead to tire failure
• Overinflated tires make your vehicle harshly, are more prone to road hazards, and wear unevenly

What if I take care of it?
• Prolong tire life
• Increase fuel efficiency
• Improve ride characteristics, handling, and comfort

Why service your vehicle at a Honda Dealership?
Value and Trust — Honda dealerships strive to offer the same things people choose a Honda vehicle for, including reliability, dependability, and value. The Parts and Service Department is committed to earning your loyalty every time you visit and helping you prolong the life of your vehicle.

Honda Professionals — Dealership Parts and Service personnel are trained professionals and are continually provided leading-edge customer service, process, and technical training. Combine that with up-to-date technical resources, specialized processes, and specific tools for your exact model and yea, and you've got the right people to help make maintaining your Honda as satisfying as owning it.
IT'S A BOY!


Congraulations to Steve & JoAnn Pecora as they welcome their 1st grandchild.

Jensen Pecora
Born 12/9/21 at 12:14 pm.
8 lbs 2 oz
21 inches long with a full head of hair 🙂
FEATURED RECIPE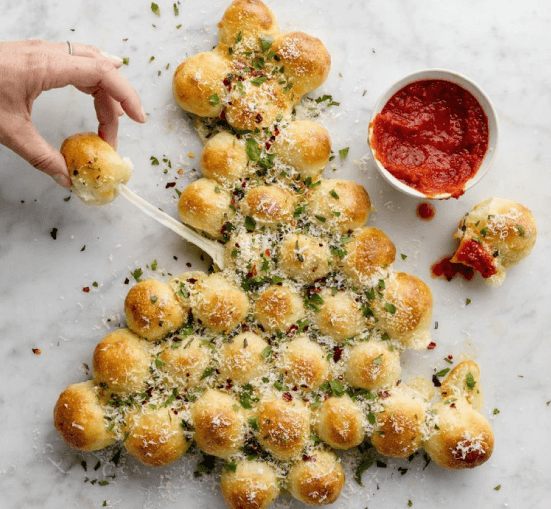 Pull-Apart Christmas Tree
Ingredients
1 lb. refrigerated pizza dough
Egg wash (1 egg whisked with 1 tbsp water)
7 mozzarella sticks
1/4 c. melted butter
1/2 c. finely grated Parmesan
1 tbsp. Thinly sliced basil
1 tbsp. chopped parsley
1 tbsp. chopped rosemary
Marinara, warmed (for serving)
Directions
1. Preheat oven to 450°. Line a large baking sheet with parchment paper. Cut mozzarella sticks into 1" pieces and set aside.
2. On a floured surface, divide pizza dough into two pieces. Stretch and roll each piece of dough into a long rectangle, then cut dough into 2" squares (you'll need 33 total).
3. Wrap a dough square around each piece of mozzarella, forming a tightly sealed ball. Place balls seam-side down on the baking sheet in the shape of a Christmas tree (they should be touching). Brush egg wash on dough balls and bake until golden, 15 to 20 minutes.
4. Meanwhile, whisk together melted butter, Parmesan and herbs. Brush on baked pizza balls. Serve warm with marinara for dipping.
Receipe credit: delish.com
LET'S KEEP IN TOUCH