2018 October Newsletter

Honda — Investing In America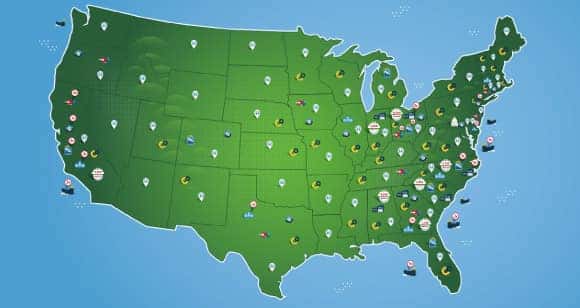 BUY LOCALLY TO SELL GLOBALLY
Honda began manufacturing in the U.S. and using local suppliers in 1979. Materials and components from U.S. suppliers are used in the products Honda makes in America and exports around the world.
89 Countries and Territories
Markets in Asia, Latin America, Europe, and the Middle East to which Honda exported last year — 56 markets for autos and 70 markets for power equipment, powersports products, and service parts.
1.2 Million Vehicles
U.S.-made Honda and Acura vehicles exported since 1987.
$1.8 Billion Exported
Value of U.S.-produced vehicles, power equipment, powersports products, service parts, and aircraft Honda exported from the U.S. last year.
The 2019 Honda HR-V Sport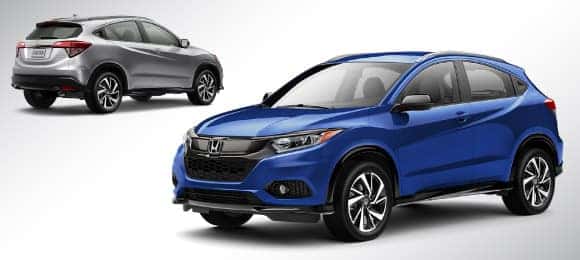 You don't always know where the day will take you. In an HR-V, you don't need to. With the best qualities of an SUV, a hatchback and a compact, the HR-V is stunningly versatile and ready to go wherever life demands. Here are just a few of the top features the new HR-V has to offer:
Apple CarPlay™ Integration*, Android Auto™ Integration*, Sport Mode with Dual-Mode Paddle Shifters, Sport Pedals (Exclusive to Sport Trim), 7-inch Display Audio Touch-Screen & more!

*Apple CarPlay is a trademark of Apple Inc. Android and Android Auto are trademarks of Google Inc.
Owner's Information Playlist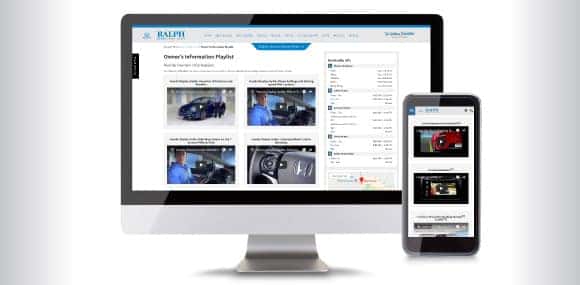 Looking for some guidance on one of the many features of your New Honda? On our website under the service tab you will find a section called the Owner's Information Playlist that has many videos that will help you.


October 16:
National Bosses Day
October 31:
Happy Halloween!
November 6:
Election Day
Fun Facts About Boss's DayIs Boss's Day a Public Holiday?
Boss's Day is not a public holiday. Businesses have normal opening hours.
What Do People Do?
Boss's Day is dedicated to all employers and provides a prospect of improving the liaison between employers and their staff. Many workers dedicate this day to their supervisors for various reasons, such as supporting staff with their jobs and careers. This observance also gives employees a chance to recognize those in supervisory positions.
Some people give their bosses cards, gift certificates, or flowers on Boss's Day. This observance is becoming increasingly popular in various workplaces. It has received both praise and controversy.
Public Life
Boss's Day, which is on October 16, is an observance and it is not a nationwide public holiday in the United States. If it falls on a weekend, then it is celebrated on the working day closest to it.
Background
The concept of National Boss Day began in 1958 when Patricia Bays Haroski, then an employee at State Farm Insurance Company in Deerfield, Illinois, registered the holiday with the United States Chamber of Commerce. She designated October 16 as the special day because it was her father's birthday. Haroski's purpose was to designate a day to show appreciation for her boss and other bosses. She also hoped to improve the relationship between employees and supervisors.
Four years later in 1962, Illinois Governor Otto Kerner backed Haroski's registration and officially proclaimed the day. The event's popularity is growing outside the United States and is now also observed in countries such as Australia, India, and South Africa.
Note: The dates below show when National Boss Day was first officially proclaimed in 1962, although the concept for this observance began in 1958.
Thanksgiving Baskets for the Community

Dear Friends,
For many years, churches, organizations and individuals in our community have chosen to provide Thanksgiving dinners for needy families in Greece and/or Charlotte. If you have participated in the past, you know what an important ministry this can be to people temporarily having trouble making ends meet, or who never are able to have enough to get through the month. We invite you to participate again this year.
If you decide to undertake this project, we ask that you have your request for names for Thanksgiving dinners called in to us by October 19, 2018 at the latest. This should allow ample time for you and your group to make your plans and for our committee to interview, screen and assign prospective recipients. You may request certain characteristics in a family and we will do our best to fill them.
However, please note that we will not be able to receive any requests to donate Thanksgiving baskets after October 19.
The following guidelines should help with your Thanksgiving planning:
You may provide for one or more families.
The "basket" should include all the items that you, yourself, would purchase to prepare for your own holiday dinner. Turkey, or other meat, potatoes, vegetable, stuffing mix, cranberry sauce, bread, milk, margarine, coffee, tea and dessert make up a festive meal. You may add other enhancements if you would like. Many people include candles, napkins, candy, and other items.
To avoid liability, please do not include any homemade foods.
Please include a foil roasting pan with each dinner.
As soon as you receive the name(s) of your recipient, please call the person as soon as possible and arrange a mutually convenient time to deliver the food. Remember, once you have contacted a family, the will be counting on your gifts as they stretch their food dollars. If for any reason, you cannot provide the food, please call Carol at 227-5953.
Please consider participating in our Thanksgiving Basket Program and in this small way, touching the lives of the needy in our community. Call Carol at 227-5953 or carolycoons@gmail.com to answer any questions and to sign up to provide a dinner or dinners.
Thank you,
The Thanksgiving Basket Committee of the Greece Ecumenical Food Shelf
Carol Coons and Kay Cooper, Co-chairs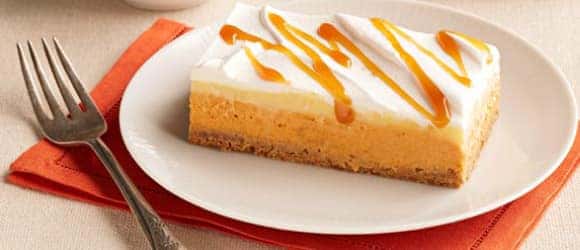 No-Bake Pumpkin Spice Layered Dessert
INGREDIENTS
1-1/2 cups graham cracker crumbs
1/4 cup butter, melted
1 can (15 oz.) pumpkin
2 pkg. (3.4 oz. each) JELL-O Vanilla Flavor Instant Pudding, divided
1 tsp. pumpkin pie spice
1 tub (8 oz.) COOL WHIP Whipped Topping, thawed, divided
1-1/2 cups plus 1 Tbsp. cold milk, divided
8 KRAFT Caramels
MAKE IT
1. Mix graham crumbs and butter; press onto bottom of 13×9-inch dish.
2. Whisk pumpkin, 1 pkg. pudding mix and spice in large bowl until blended. Stir in 2 cups COOL WHIP; spread over crust.
3. Beat remaining pudding mix and 1-1/2 cups milk in medium bowl with whisk 2 min.; spread over pudding layer in dish. Cover with remaining COOL WHIP. Refrigerate 4 hours.
4. Microwave caramels and remaining milk in microwaveable bowl on HIGH 30 sec.; stir until caramels are completely melted and mixture is well blended. Drizzle over dessert just before serving.