2017 November Newsletter
This Month at Ralph Honda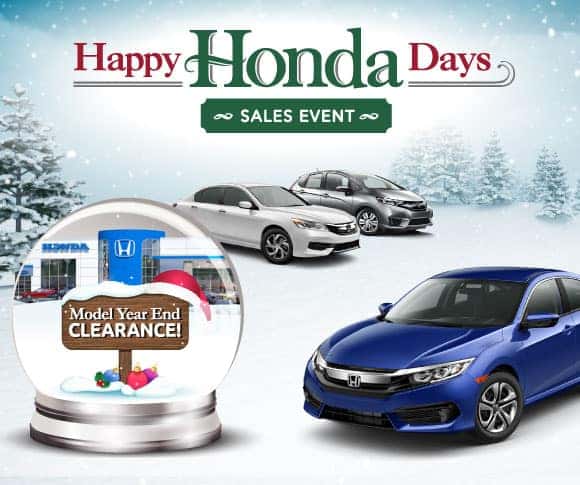 The Happy Honda Days Sales Event going on NOW!
For a limited time, receive:
Leases as low as 87/month!*
*2017 Civic LX CVT 4dr – MSRP: $20,375 – FC2F5HEW. 36 month closed end lease. $3499 trade or cash down. First payment, $595 acquisition fee, taxes and DMV fees due at signing.12,000 miles/year. $0.15 overage. To qualified buyers through AHFC. Offer valid through 1/2/2018.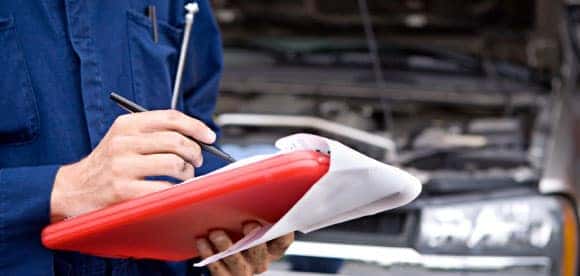 Go Over Your Vehicle Safety Checklist
Battery
When the temperature drops, so does battery power. For gasoline and diesel engines, it takes more battery power to start your vehicle in cold weather. For electric and hybrid-electric vehicles, the driving range is reduced when the battery is cold, and battery systems work better after they warm up. Make sure your battery is up to the challenges of winter.
Have your mechanic check your battery for sufficient voltage, amperage and reserve capacity.
Have the charging system and belts inspected.
Replace the battery or make necessary system repairs, including simple things like tightening the battery cable connections.
Keep gasoline in a hybrid-electric vehicle, to support the gasoline engine.
Lights
See and be seen! Make sure all the lights on your vehicle are in working order. Check your headlights, brake lights, turn signals, emergency flashers, and interior lights. Towing a trailer? Be sure to also check your trailer brake lights and turn signals. Trailer light connection failure is a common problem and a serious safety hazard.
Cooling System
Make sure the cooling system is in proper working order.
Make sure you have enough coolant in your vehicle and the coolant meets the manufacturer's specifications. See your vehicle owner's manual for specific recommendations on coolant.
Thoroughly check the cooling system for leaks or have the Ralph Honda Service Team do it for you.
Have the coolant tested for proper mix, proper pH (acidity) and strength of the built-in corrosion inhibitors. Over time, the rust inhibitors in antifreeze break down and become ineffective.
Drain and replace the coolant in your vehicle as recommended by the manufacturer, to remove dirt and rust particles that can clog the cooling system and cause it to fail.
Windshield
Washer Reservoir
You can go through a lot of windshield wiper fluid fairly quickly in a single snowstorm, so be prepared for whatever might come your way.
Completely fill your vehicle's reservoir before the first snow hits.
Use high-quality "winter" fluid with de-icer and keep extra in your vehicle.
Wipers and Defrosters
Safe winter driving depends on achieving and maintaining the best visibility possible.
Make sure your windshield wipers work; replace worn blades.
Consider installing heavy-duty winter wipers if you live in an area that gets a lot of snow and ice.
Check to see that your front and rear window defrosters work properly.
Floor Mats
Improperly installed floor mats in your vehicle may interfere with the operation of the accelerator or brake pedal, increasing the risk of a crash.
Remove old floor mats before installing new mats; never stack mats.
Use mats that are the correct size and fit for your vehicle.
Be sure to follow the manufacturer's instructions for mat installation. Use available retention clips to secure the mat and prevent it from sliding forward.
Every time the mats are removed for any reason, verify that the driver's mat is reinstalled correctly.
Tires
If you plan to use snow tires, have them installed in the fall so you are prepared before it snows. Check out www.nhtsa.gov/tires for tire ratings before buying new ones and look for winter tires with the snowflake symbol.
Regardless of season, inspect your tires at least once a month and before long road trips. It only takes about five minutes. If you find yourself driving under less-than-optimal road conditions this winter, you'll be glad you took the time. Don't forget to check your spare tire.
As the outside temperature drops, so does tire inflation pressure. Make sure each tire is filled to the vehicle manufacturer's recommended inflation pressure, which is listed in your owner's manual and on a placard located on the driver's side door frame. The correct pressure is NOT the number listed on the tire. Be sure to check tires when they are cold, which means the car hasn't been driven for at least three hours.
Look closely at your tread and replace tires that have uneven wear or insufficient tread. Tread should be at least 2/32 of an inch or greater on all tires.
Check the age of each tire. Some vehicle manufacturers recommend that tires be replaced every six years regardless of use, but check your owner's manual to find out.
For more information on tire safety, visit NHTSA's Tires page.
Stock Your Vehicle
Carry items in your vehicle to handle common winter driving-related tasks, such as cleaning off your windshield, as well as any supplies you might need in an emergency. Keep the following in your vehicle:
Snow shovel, broom, and ice scraper.
Abrasive material such as sand or kitty litter, in case your vehicle gets stuck in the snow.
Jumper cables, flashlight, and warning devices such as flares and emergency markers.
Blankets for protection from the cold.
A cell phone with charger, water, food, and any necessary medicine (for longer trips or when driving in lightly populated areas).
Plan Your Travel and Route
Keep yourself and others safe by planning ahead before you venture out into bad weather.
Check the weather, road conditions, and traffic.
Don't rush; allow plenty of time to get to your destination safely. Plan to leave early if necessary.
Familiarize yourself with directions and maps before you go, even if you use a GPS system, and let others know your route and anticipated arrival time.
Fun Facts About The Macy's Thanksgiving Parade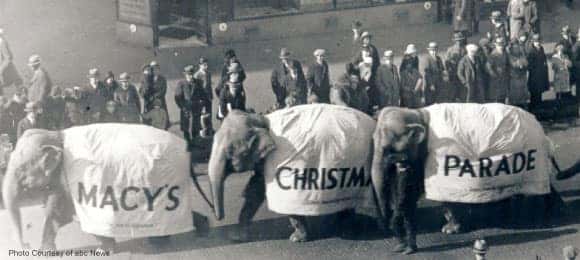 13 Things You Didn't Know About the
Macy's Thanksgiving Parade
1. The first Thanksgiving Day Parade (then called the Macy's Christmas Parade) took place on November 27, 1924, and stretched for five and a half miles. Today, marchers can complete their modest two-and-a-half mile route in about an hour.
2. The parade used to be far furrier. From 1924 to 1926, a procession of tigers, donkeys, elephants, camels, and other live beasts—borrowed from the Central Park Zoo—strutted down the streets. They were replaced by air-filled balloons propped up on sticks in 1927 because the creatures scared the children on the sidelines. (Helium balloons emerged a year later.)
3. For the first few years, rather than deflate the balloons after the parade, organizers let them fly away and explode in the atmosphere. In 1928, Macy's even made a game of it. Handlers released all five balloons (an elephant, two birds, a ghost and a tiger) and challenged the public to capture them, offering a $100 reward for each one. The tiger landed first, on top of a Long Island home—and was quickly ripped to shreds by eager bystanders.
4. One balloon nearly caused an airplane disaster in 1932. After the parade that year, a 22-year-old aviation student spotted Macy's 60-foot-long Tom-Cat balloon floating around 5,000 feet up. To her instructor's dismay, she spontaneously decided to ram into it. The balloon wrapped around one of the wings, and the plane plummeted earthward. The instructor seized control at the last minute, saving them both.
5. From 1942 to 1944, Macy's president Jack Straus canceled the parade out of respect for the soldiers in World War II. All the planning still paid off: Macy's donated 650 pounds of balloon rubber to the military.
6. The parade in Miracle on 34th Street was no fabrication. The producers at 20th Century Fox set up dozens of cameras along the 1946 parade route to capture the authentic festivities. Unbeknownst to many in the crowd, the Kris Kringle riding the float was actually one of the film's stars, Edmund Gwenn, given one chance to perform his parade scenes live. Santa delivered— and won an Oscar for the role in 1948.
7. In 1958, a national helium shortage, almost forced the parade's cancellation. Organizers came up with a creative backup plan: filling the balloons with regular air and then hanging them from giant mobile contruction cranes like big, puffy marionettes. It actually worked.
8. More than 8,000 volunteers staff the parade every year. Who has the toughest job in the procession? Possibly the balloon pilots, individuals who walk the entire parade backward while directing a team of handlers to adjust the balloons' bearings for weather conditions.
9. Wind is the enemy. During the especially windy 1997 parade, a Barney balloon nearly broke free of its cables before being punctured and subdued by NYPD officers. That same year, a woman was seriously injured by falling debris when a runaway Cat in the Hat balloon crashed into a light pole. Following a 24-day coma, she sued Macy's New York City, and the lamppost manufacturer for $395 million.
10. See those big, fancy floats? They're all built to collapse to no more than 12.5 feet tall and 8 feet wide. Since 1968, all the parade's props and stages have been hand painted, assembled, and glittered at Macy's Parade Studio in New Jersey. Because it would be impractical to float the floats over the river, they're designed to pass through the Lincoln Tunnel on trucks.
11. Float makers use so much glitter, they can practically swim in it. The parade studio orders the stuff in 25-pound packages and can go through 100 to 200 pounds for a single float.
12. It take a small army to clean up the mess. In 2016, New York City's sanitation department deployed about 160 workers with brooms, trucks, and backpack blowers to clear the streets post-celebration. In 2015, the department was tasked to removing 32 tons of trash from the parade route—the metrics quivilant of the entire copper exterior of the Statue of Liberty lying on Sixth Avenue.
13. How much does it all cost? The shopping site ebates.com calculates anywhere from $1.5 million to $3.4 million each year, just for the floats, helium, taxes, and logistical coordination. While many parade performers are volunteers, they require more than 300 dressers and makeup artists to get TV-ready. It may air only once a year, but the Macy's parade is a full-time business. With more than 50 million annual TV viewers, business is booming.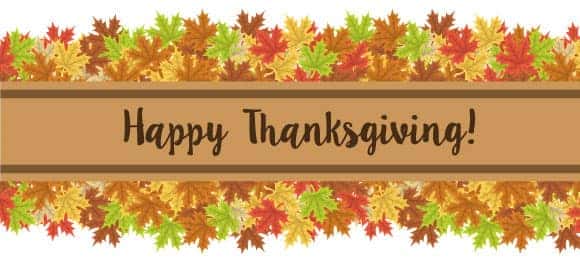 November 23: Happy Thanksgiving!
December 1-17: Yuletide in the Country Genesee Country Village & Museum Fridays-Sundays
Thank You For Your Service

We are proud to say "Farewell" to our own Jessica Carney, who is leaving Ralph Honda to serve our country.

Best of wishes, Jessica, for a safe and fulfilling experience! We are grateful to have worked with you, and are confident the U.S. Navy will benefit greatly from having you aboard their team!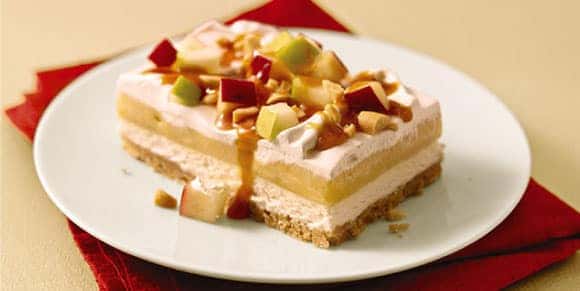 Caramel Apple Dessert
INGREDIENTS
60 vanilla wafers, finely crushed (about 2 cups)
1/3 cup butter, melted
1 pkg. (8 oz.) PHILADELPHIA Cream Cheese, softened
1/4 cup sugar
3-1/4 cups milk, divided
1 tub (8 oz.) COOL WHIP Whipped Topping, thawed, divided
2 pkg. (3.4 oz. each) JELL-O Vanilla Flavor Instant Pudding
1/2 cup caramel ice cream topping, divided
1 each green and red apple
1/4 cup PLANTERS COCKTAIL Peanuts
MAKE IT
1. Combine wafer crumbs and butter; press onto bottom of 13×9-inch pan. Beat cream cheese, sugar and 1/4 cup milk in medium bowl with mixer until blended. Stir in 1 cup COOL WHIP; spread over crust.
2. Beat pudding mixes and remaining milk in separate medium bowl with whisk 2 min. Stir in 1/4 cup caramel topping; spoon over cream cheese layer. Cover with remaining COOL WHIP.
3. Refrigerate 5 hours or until firm.
4. Chop apples; sprinkle over dessert just before serving. Top with nuts and remaining caramel topping.